Stefan Lendi, author and creator of the PsychoMarketing method
Stefan Lendi is a marketer and creator of the PsychoMarketing method, based in Switzerland. He has created reference platforms and helped several colleagues to develop their activities. He is the author, notably of PsychoMarketing: Attract and retain even more customers! ". He was marketing manager in several companies, including Nestlé, IBM, Danone, and Nespresso.
You are at the origin of the PsychoMarketing method. Can you explain to us what it consists of and who exactly it is aimed at?
PsychoMarketing (or Psycho Marketing) is based on the cerebral activities (of the prospect, of the client) and employs actions to trigger a succession of psychic states, which lead to a marketing result. The ultimate objective sought: to generate satisfied and recurring customers in number, namely ambassadors.
PsychoMarketing is a methodology, which is aimed at seasoned marketers, as well as entrepreneurs or traders who have no experience in marketing. It applies to any organization addressing humans. It is therefore not intended for a particular type of company, size of organization, geographical area or sector of activity: it can be adapted in each case.
What are the benefits of PsychoMarketing? Why should companies integrate it into their strategy?
Marketing essentially consists of recruiting customers: it is based on acquisition. Because it is expensive to recruit customers, marketing budgets are often viewed as costs, and rightly so.
PsychoMarketing rehabilitates customer loyalty. It focuses on creating ambassadors, who facilitate the recruitment of new customers, by reducing the cost of customer acquisition and increasing the productivity of marketing investments. Marketing expenses then turn into investments.
To achieve this, it is necessary to rehabilitate theHuman and create a relationship of authenticity and benevolence before, during, and especially after the transaction.
On what scientific criteria is this method based?
PsychoMarketing is based on techniques that are proven by science and practice, in order to attract, convince and retain customers. The methodology combines, among other things, behavioral sciences, cognitive neurosciences, influence and persuasion techniques, direct marketing, digital marketing, neuromarketing, hypnosis, neurolinguistic programming (NLP), or analysis. transactional.
To understand what motivates people and how to trigger psychic states that lead to an act of purchase, we rely in particular on behavioral sciences. So my book PsychoMarketingfor example, is based on more than 70 scientific references, mostly social experiments.
But that's not all. To understand theHuman, it is necessary to understand the functioning of the brain. This is why, to better understand the mechanisms of attention, perception, memorization, decision, motivation and action, PsychoMarketing relies on the latest discoveries of neuroscientists on brain functioning. A marketer who knows how the brain works will create more effective messages and communications.
How does this method stand out from others and allow companies to more effectively achieve their goals?
Other marketing methods say, for example, that you have to start by drawing a portrait of the prospect you are targeting. Which is not wrong. Yet we marketers have biases, cognitive biases, and limiting beliefs. Also, before studying your ideal prospect, you have to start with yourself. Socrates' phrase " Know thyself " makes sense. In PsychoMarketing, we will therefore start by doing our introspection: identifying our cognitive biases, our false beliefs, in order to be able to understand our client and the market in a much more objective, empathetic and clairvoyant way.
Another example: we know that it costs up to 5 times more to recruit a new customer than to retain an existing customer. And in marketing, we often talk about "retention". But if you have to "retain" a client, it's because the job wasn't done well, because a satisfied client doesn't want to leave!
This is why PsychoMarketing rehabilitates loyalty, creating a benevolent experience, before and throughout the relationship, through a " spiral of value and persuasion ". This spiral of PsychoMarketing aims to provide so much value to the prospect that he ends up convincing himself that we are the right choice. And it creates de facto a barrier to entry, which annihilates competition.
What are the indicators to follow to measure the performance of a strategy based on PsychoMarketing?
The spiral of value and persuasion contains 7 steps, which aim to trigger a succession of psychic states in the prospect, in order to bring him closer to the desired marketing result. The 7 steps are as follows:
the pre-influence,
attraction,
the transformation,
the Commitment,
Tantalization,
the transaction,
and Recurrence.
Each stage has its temperature of desire (the higher it is, the greater the propensity to purchase) and, for each state, there are means of measurement. They are multiple, we can mention in particular: the size of the audience, the spontaneous/assisted notoriety, the opt-ins (registrations) and opt-outs (rate of attrition), the opening rates, the commitment, the cart additions, transaction size, net promoter score (NPS), or customer lifetime value.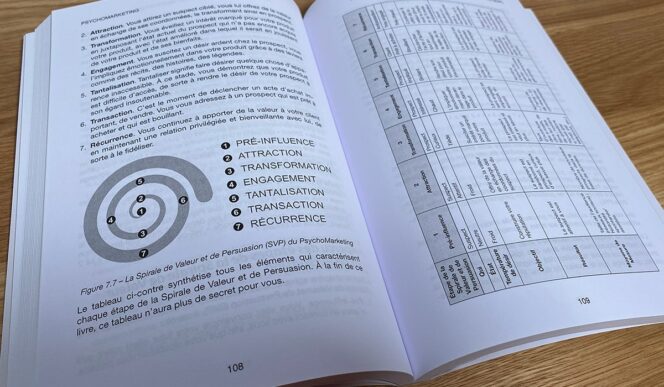 Do you have an example of a successful PsychoMarketing strategy? What was the need, the levers activated, and for what results?
In the book, the Nespresso case is detailed, in particular the ability of this brand to create a unique experience and a long-term relationship thanks to its Club, with the success that we know. There is also the Glassdoor case, which mixes B2B and B2C, and which manages to bring value to an employer as well as to a candidate.
In addition, many DNVBs (Digital Native Vertical Brand, brands that come from digital and operate on a vertical) apply all or part of PsychoMarketing. This is the case for DollarShaveClub.com, which was sold to the Unilever group for $1 billion in 2016.
What advice(s) would you recommend to companies wishing to implement a PsychoMarketing strategy to boost their sales and retain their customers?
After learning about the PsychoMarketing methodology, it would be a question of carrying out an audit to identify what is already in place in the company and what could be integrated into the process. On this basis, an action plan can be drawn up, which will aim to fill the gaps and put in place the performance indicators specific to measuring each stage of the spiral of value and persuasion. Finally, it is advisable to individually test each new action of PsychoMarketing, because in the end, as with any other method, it is always the market that decides.
To find out more about the PsychoMarketing method, find Stefan Lendi on the occasion of the 5th edition of the Inbound Marketing France event, which will take place on Tuesday June 21, 2022 (9:30 a.m. to 10:20 a.m.) at the Couvent des Jacobins, in Rennes.
Comments
0 comments