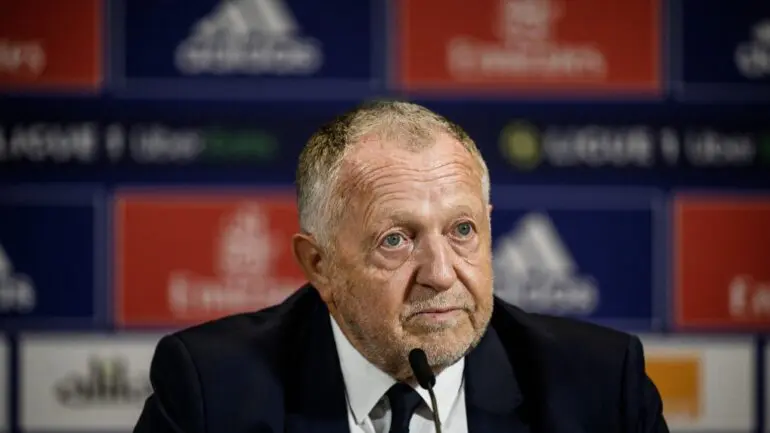 Jean-Michel Aulas at a press conference (Photo by JEFF PACHOUD / AFP)
On June 15, Jean-Michel Aulas celebrated his 35th birthday at the head of OL. If he still wants to keep control, the Lyon president says he is thinking about his succession.
In 35 years, Jean-Michel Aulas passed theOL from a simple club winner of national cups and vegetating in D2 to that of French football cadors with in particular seven titles in a row, a performance never before achieved. If the season which has just ended has been far from expectations and the ten years of scarcity in trophies are beginning to weigh on the supporters, the work of Aulas will continue to be praised. At 73, half of whom are at the head of the club, the Lyon president is not ready to let go but is considering it despite everything. With the arrival of a future investor to take over the shares of Pathé and IDG Capital, this is a first step towards what can be called post-Aulas.
"My succession? Of course I'm thinking about it. It would be absolutely not rational at 73 not to imagine it, he conceded to our colleagues from TF1. I also tell myself that there is a family behind it, there are people I love to whom I also owe it to them to be closer to them, so in the future you have to be ready to hand over the day when things are going to be done."
The process has already started with the announcement in the coming days of the new shareholder, but this is not the beginning of the end. In his wildest dreams, Jean-Michel Aulas would certainly like to go even bigger with this famous European trophy that he visualizes so much. It's up to him and his team to build a workforce capable of getting there in the coming years because time is running out.