news culture Stranger Things: a season 4 that changes everything (or almost) according to Noah Schnapp
While the first part of season 4 of Stranger Things will not be long in coming to Netflix, we had the opportunity to talk to two actors from the series. Noah Schnapp (Will Byers) and Priah Ferguson (Erica Sinclair) gave us a few minutes to talk about this new season, but also about its relationship with Dungeons & Dragons and video games.
Summary
Season 4 of Stranger Things according to Noah Schnapp and Priah Ferguson

Dungeons & Dragons x Stranger Things

Stranger Things and the video game
Season 4 of Stranger Things according to Noah Schnapp and Priah Ferguson
In the Netflix series, Priah Ferguson plays the role of Erica Sinclair, Lucas' little sister. After finally coming to terms with her nerdy side in Season 3, she returns this season for a starring role. And it starts with a wild game of D&D. For his part, Noah Schnapp plays Will Byers, the missing little boy from season 1. But after all these years, little Will has grown up and is now a high school student looking to find his feet in a whole new region. As you will have understood, if this new season is that of maturity, it above all upsets the codes established by the previous ones. Noah Schnapp and Priah Ferguson indeed promise us a season very different from what Stranger Things has accustomed us to:
Can you tell us a bit about this fourth season? What are its particularities?
Noah Schnapp: This fourth season is darker, deeper… It is for sure much scarier and therefore there are more violent and gory scenes. But it's also interesting because of all these new characters that they (the writers) introduced and the fact that we're dispatched to different places. I'm in California, she (Priah Ferguson) is in Hawkings and it's interesting how they managed to tie it all together.
Is this season really different from previous ones?
Priah Ferguson: Yeah, I think she's really different but she still has that "Stranger Things" side you know. It keeps the spirit of season 1.
It's interesting to have you both because your characters have evolved a lot over the series. Can you explain to us how they became what they are in this season 4?
Noah Schnapp: As for Will, through the seasons we could see him being tormented by a number of things, then growing, finding himself and coming out of his shell. During season 2, he faced terrible monsters. For season 4, the problem comes less from the monsters and more from having to defend yourself at school and in the face of more personal battles.

Priah Ferguson: With Erica we observed a change in personality. During season 3, we understand her better and we realize that she is indeed a nerd. And in season 4, this nerd side evolves with her and she places herself as a leader.
---
Dungeons & Dragons x Stranger Things
In addition to the ET side and films of the 80s, Stranger Things has a rather particular red thread: Dungeons & Dragons universe. Our little band of friends spend most of their free time engaging in role-playing games, regardless of the season. In this fourth, the role-playing game even gains a more important role, with the introduction of the Hellfire Club in particular. Our interview with the two actors was therefore a perfect moment to talk a little about the role-playing game franchise:
'At the start of Season 4, the Dungeons & Dragons universe takes on an important place. Were you familiar with this universe before shooting Stranger Things?
Noah Schnapp: I had never really heard of it. But there was a guy on set who taught us how to act. He was a real expert, he knew everything about the game. So he showed us how the dice worked and explained everything to us. I admit I don't understand everything yet.

Priah Ferguson: I didn't know anything about it before filming, but when I found out more about it I said to myself: "Oh that's quite fun".
'In season 4, Erica joins the boys to play D&D. Priah, do you remember the character she plays and what can you tell us about her?
Priah Ferguson: I don't really remember. It seems to me that the Duffer brothers created this creature. But I think she's pretty cool because she fits Erica's character so well. Her connection to role-playing is what really binds her to the show and what lets viewers see that she's a nerd too.
It's also interesting because Erica initially didn't want to be associated with her brother's hobby. Over the episodes, she totally changed her mind. Can you explain to us why?
Priah Ferguson: I think after season 3 she understood what was going on, what her brother was up to and the demonic things that were going on. She wanted to get involved and at that point Dustin told her she was a nerd and she was like "I guess so". So when season 4 came around, she decided to take on that nerd side and her leader side.
And have you ever played Dungeons & Dragons?
Priah Ferguson: During a press tour, me and Gaten (Dustin) played D&D and it was really fun. I really got hooked so in the future I might start my own campaign with some friends, who knows.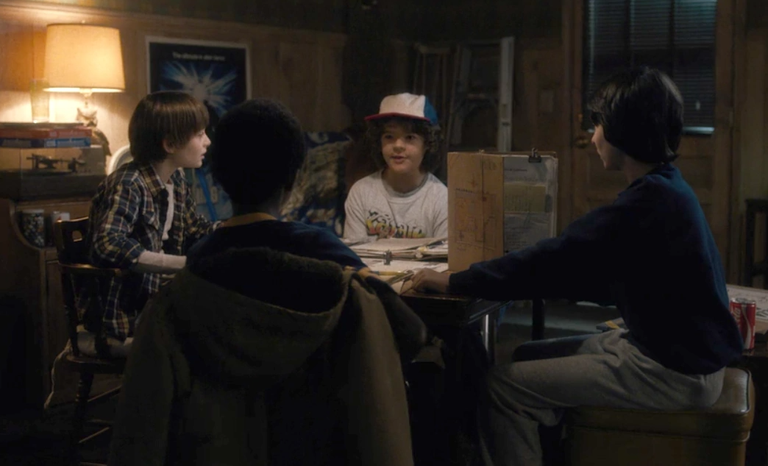 ---
Stranger Things and the video game
In addition to role-playing, Stranger Things also gives pride of place to video games, and especially to arcade terminals. Very popular in the 80s, our favorite entertainment had its place in this series with a retro atmosphere. So we naturally raised the subject with the two actors:
In the series, we notably see Will and his friends spending time in arcades. You are both under 18 but have you ever played on an arcade machine?
Noah Schnapp: No, but we shot in an arcade. It was fun. I remember, it was for season two or three. Children were running around playing all the different games. I think that's the most fun part of the 80s: the games.
And if we talk about video games in general, are you great gamers?
Noah Schnapp: I played Fortnite, that's all (laughs).

Priah Ferguson: I played a few video games like GTA or Call of Duty here and there, but never really got into it.
If this season 4 was a video game, what would it look like in your opinion?
Noah Schnapp: Maybe a Pac-man with monsters devouring all around them.

Priah Ferguson: I am okay.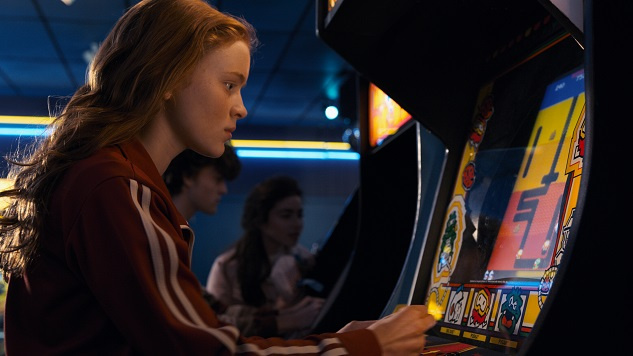 ---
Comments
0 comments